Zhu Bixin met with Shanghai SASAC chief
General Office 2022-03-10
On March 9, Zhu Bixin, China Chengtong's Secretary of the CPC Committee and Chairman met with Bai Tinghui, Secretary of the CPC Committee and Chairman of the Shanghai Municipal State-owned Assets Supervision and Administration Committee (Shanghai SASAC). The two sides exchanged views on deepening bilateral cooperation. China Chengtong's Vice President Huang Jing'an and Li Yousheng, and Shanghai SASAC's Chief Economist Chen Dong attended the meeting.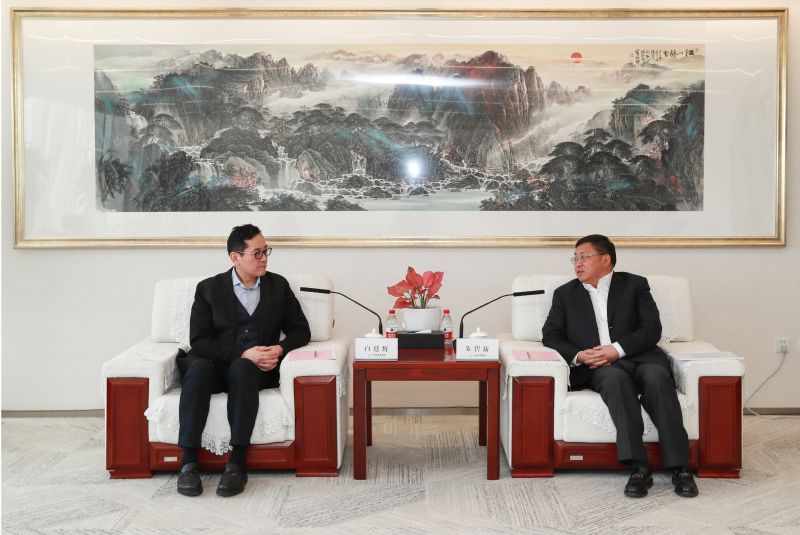 Zhu Bixin welcomed Bai Tinghui and introduced China Chengtong's history of reform and achievements attained in fund investment, equity operation, assets management and financial services, as well as the development of the incubation platform for strategically important emerging industries. Zhu said that thanks to Shanghai's generous support to China Chengtong for its reform and development, the Group has already established a sound cooperation foundation with the municipality and Shanghai municipal SOEs. China Chengtong and Shanghai should further enhance their cooperation in fund investment, capital operation, SOEs reform and strategical emerging industries to achieve win-win outcomes.
Bai Tinghui extended his thanks to China Chengtong for its support to Shanghai in the city's social economic development, and shared Shanghai SOEs' success in reform and development. Bai stressed that as a pilot state capital operating company, China Chengtong has played a crucial role in promoting a rational structure of SOEs layout, from which Shanghai SOEs have learned a lot. Shanghai and China Chengtong should continue enhancing their ties in fund investment, SOEs reform, strategical emerging industries and financial services to jointly contribute to a quality-oriented development.
Head of China Chengtong's General Office and Department of Strategic Development, and relevant personnel from Shanghai SASAC joined the meeting.